My first son is 3.5 years old now, and he sometimes looses his temper for some reason.
He hardly crys, but he screams and stops doing what he's supposed to do, such as change his clothes, go take bath, or go to nersery school.
My son is not that stubborn, so I can easily distract him from he was yelling at for with something fun.
He loves to eat, so food is one of the best things to distract him with.
But, any food won't do.
It has to be something unusual and special.
So, what we've been using often lately is this.
It's
"Flu-che".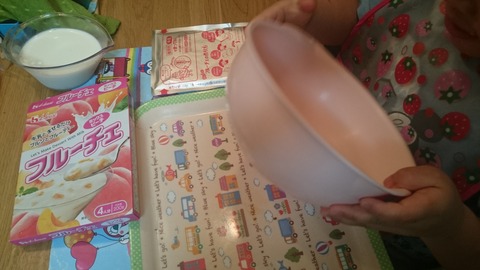 This is probably one of the long sellers in Japan because I remember this was sold when I was a child.
It's a jelly or pudding like dessert and you just need to mix it with cold milk.
By the time I put
a bowl, 200ml of cold milk, and Flu-che,
there will be a big smile on my son's face.
His temper goes away just like it was never there.
This is easy enough for my son to mix it by himself.
And, it's very entertaining for him that he can fix his dessert by himself.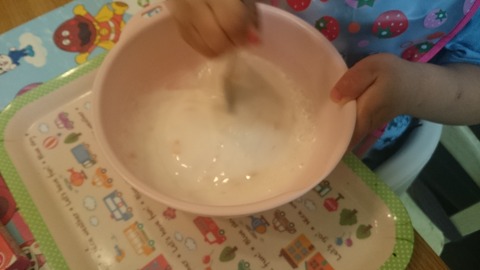 He gets so excited if I go like "mix! mix" mix well!"
It's also fun for him to eat directly from a bowl.
I take some for his brother from the bowl, and I let him eat as much as he wants from the bowl.
There have been some occasions when Flu-che changed his mood instantly and saved us.
I cannot use it too often not to loose its power.
I will see how long Flu-che can distract my sons from now on, at least for the next few years, I will keel a box or two in my kitchen cabinet.
@Rakuten Flu-che Strawberry/ 189yen
@Rakuten Flu-che Peach 200g/ 189yen