It's getting nice, hot and humid in Tokyo!
It's hot, humid and unconfortable anyway,
so let's think about how to enjoy summer in Tokyo.

Before I became busy taking care of kids, I used to go out to see the fireworks in Yukata.
Yukata is a casual form of summer Kimono.
You cannot wear Kimono by yourself without support, but you can wear Yukata by yourself after trying and procticing a bit.
If you google "how to wear Yukata", you can find English pages describing the way to wear Yukata by yourself.
You can also find your favorite way to tie your Obi.
But first of all, what you need to get is your Yukata.
This is mine.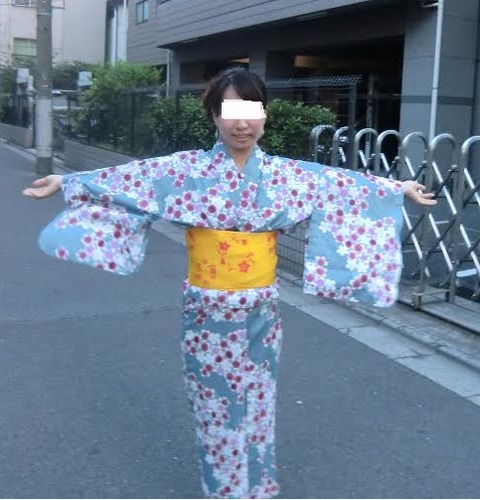 I liked this blue with red flowers and the yellow Obi, the belt.
I used to go out to see Sumida river fireworks, which is one of the most famous and biggest fireworks show in Tokyo.
Sumida river fireworks show is on

July 29th

this year.
I recommend to get your Yukata online.
It's rather difficult to find enough options of various price range at off-line stores these days.
Above is my first recommendation.
It's a set of Yukata, belt, and wooden sandals.
@Rakuten English page/ Yukata 3-pc set/ 4,980yen
This is also nice. More expensive but better faric quality.
@Rakuten/ English page/ 3-pc Yukata set/ 8,532yen
It's a bit difficult but also fun to choose your best Yuata because each person looks very different in the same Yukata.
There should be the best color and the best pattern for you.
Let's enjoy the hot summer in a nice Yukata!